Costa Brava set the tone for sustainable tourism
as eco-trips increase
 02 October 2023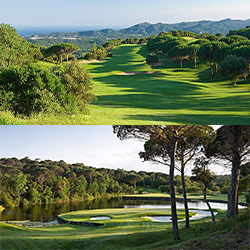 In recognition of World Tourism Day 2023, the Costa Brava, renowned for its picturesque landscapes, rugged coastline and varied golf offerings, is setting the standard in ecotourism, as the industry is predicted to exceed three hundred and seventy billion dollars by 2028.
Recent data from YouGov reveals that 53% of travellers actively seek sustainable tourism options when planning their trips, and the same proportion are willing to pay more for an eco-friendly holiday, while data from Statista shows that 81% of global travellers believe sustainable travel is important.
As the demand for eco-friendly travel continues to increase, the Costa Brava's unique experiences, outstanding golf resorts and natural green spaces position the region as the ideal destination for eco-conscious travelers driving this growth.
"Due to its incredible natural diversity, more than a third of the province of Girona is protected territory," says Norbert Bes, director of the Costa Brava Tourist Board.
"With some of the most beautiful beaches in Spain, eight iconic natural parks of the area's spectacular natural beauty, plus volcanoes, lakes, mountains and one of the western Mediterranean's premier marine protected areas, the Medes Islands, it is our responsibility to ensure that the Costa Brava remains a pristine and welcoming destination for golfers from around the world seeking places committed to nature preservation and conservation."
"Most of these areas are part of the European Charter for Sustainable Tourism initiative, demonstrating the region's commitment to sustainability and our determination to cater to travellers' changing preferences and contribute to the well-being of our planet."
The theme of this year's World Tourism Day, "Tourism and Green Investments", underlines the importance of sustainable practices in the tourism sector and the main golf clubs on the Costa Brava are taking important steps to set this precedent.
"Golf, beyond being a source of health and well-being, brings a number of environmental benefits. With sustainable agronomy practices, golf courses can play a critical role in protecting species, conserving wildlife and mitigating the impacts of climate change."
"It is reassuring to see that golf clubs such as Club Golf D'Aro – Mas Nou, nestled within the protected natural area of Les Gavarres, which obtained the GEO Certificate in 2018, act as environmental guardians of the region, supported by other top-tier resorts such as Empordà Golf Resort and Camiral Golf & Wellness, all equally dedicated to preserving our natural sanctuaries and green spaces in the same way.", concludes the director of the Costa Brava Tourist Board.
Beyond the greens, the Costa Brava offers the golfer the possibility of being much more than a tourist, with a range of experiences that guarantee that the visitor feels truly part of the region.
C/O IAGTO